FUSION OUTDOOR DINING – 7FT
Description
Specially designed for outdoor usage, the Fusion Outdoor feels at home in your garden or overlooking the swimming pool. Doubles up as a dining table / lounging area for your BBQ sessions.
Marine grade plywood cabinetry

19mm one piece Brazilian slate

Available in English cut pockets only

Water resistant high speed cloth

Ball return system

Available in 7FT only

Made in Liverpool, UK
With every purchase of the Fusion Outdoor Pool Table, we're including a free accessory set worth $250. Items include:
1 set of Belgian Aramith 2″ Balls
2 x 10mm cue tip one piece cue
1 x Triangle
Chalks & Brush
1 x Cue Rack
Table size & finish
This table is available in only 7FT. Check out the dimensions below.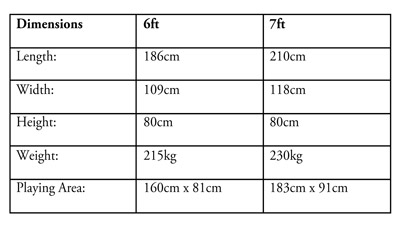 The Fusion Outdoor is only available in matte white.
CLOTH OPTIONS:
Pair your cabinet finish with one of these cloth colours. Note, colours are purely for illustration purposes and may differ slightly in actual form.
more details
Suitable for placement outdoors, the Fusion Outdoor Pool Table is a great addition by the pool or outdoor lounging area. With a 2-piece smoked glass dining tops, the table has stunning visuals that would match any home.
Built with top of the line marine grade plywood paired with water resistant cloth, the Fusion Outdoor can be used in all 4 seasons. A 19mm one piece Brazilian slate offers a very high level of gameplay. The table is played with 2″ Aramith red & yellow balls though you can also opt of the more commonly used stripe & solid option.
showroom viewing
The Fusion Outdoor is currently unavailable for viewing at our showroom. However we do have a good range of tables in various sizes that includes tables from our DPT range. Do drop by to have a game with us!
FREE PROFESSIONAL ADVICE:
If you have some questions about any of our products and would like to speak to a professional about it, feel free to drop us a call at +65 6567 8615 to speak to a member of our expert team!
Delivery & Installation
The Fusion Outdoor Pool Table is in stock and will require 3 – 5 working days to deliver.
The Fusion Outdoor is delivered in original packaging and installed on site. Our guys will be able to complete a professional installation of the pool table in about 30 minutes.
WARRANTY:
The Fusion Outdoor Pool Table comes with a 2 years warranty covering manufacturing defects.
As always, The Men's Cave do not resell other retailer's products and are direct distributors of all our products. What that means, is that you can be assured that there are no middle-men profiting through us, and you will be getting the best price for all our items for sure!
Our Facebook Reviews
Bought the Garlando Foldy Evo, from the start my communication was with Brennan, he answered my many questions promptly as there were so many models to choose from and which fits for my needs takes a bit of time.But once I've decided, placed my order and Brennan arranged delivery the next day, wow.. that is rarely heard of.. delivery next day!!. My two thumbs up!! for service.On the installation day,... read more the guys who installed were excellent, they were careful with my set and my home has wooden strip flooring and they were extra careful without me telling, the Foosball table was installed following the specs to the letter every screws and washers were at the right place according to the manual, levelled the Foosball table and all, these guys really took the time to make sure installed properly. I would recommend TheMensCave anytime no hesitation from me. Well done guys, you have gained a fan and customer !!
Zul Ali

6/22/2017
Best customer service team - kudos to Gabriel and his staff. Bought 2 Garlandos from him - great play, great quality
Felix Lee

5/09/2017
my brother Josiah Tan bought a foosball table from the mens cave and it was awesome. Thanks for the speedy service and great recommendations as well
Nicolea Tan

8/11/2017
Connect With Us