MAJESTIC POOL DINING – 6/ 7FT
Description
Featuring a more traditional pool table design, the Majestic Dining Pool Table converts from pool to dining in mere seconds. Ideal for homes following a wood theme.
Laminated MDF cabinetry

19mm one piece Brazilian slate

Victorian Table Legs

Available in only English cut pockets

Premium West of England Strachan cloth

Ball return system

Available in 7FT only

Made in Liverpool, UK
TABLE SIZE & FINISH
This table is available in either 6FT or 7FT. Check out the dimensions to find out what suits you best.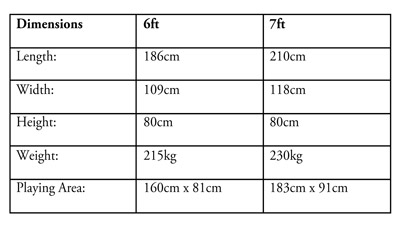 Choose from the many choices of colours available with this table;
CLOTH OPTIONS:
Pair your cabinet finish with one of these cloth colours. Note, colours are purely for illustration purposes and may differ slightly in actual form.
More details
The Majestic pool dining table doubles up as a tournament level pool table while functioning as a dining table for day to day usage. Featuring a more traditional pool table look, the table is ideal for homes following a wood theme interior. Available in only 7FT, this table is for those looking to squeeze more functionality out of their dining table.
Fitted with premium West of England Strachan cloth over a 19mm slate, the Majestic pool dining table is an authentic English pool table suitable for high level tournament play. The table uses the standard English 2" red and yellow ball on smaller cut pockets retaining a level of difficulty similar to a 9FT table. Additional points for fitting a ball return system into this table.
showroom viewing
This table is currently not available for viewing at our showroom, though you are still welcomed to drop by to take a look at the other tables in the same range and see the superb build quality that we're talking about.
Delivery & Installation
The Majestic Pool Dining is in stock and will require 3 – 5 working days to deliver.
It is delivered in original packaging and installed on site. Our guys will be able to complete a professional installation of the pool table in about 1 hour.
WARRANTY:
The Table comes with a 2 years warranty covering manufacturing defects.
As always, The Men's Cave do not resell other retailer's products and are direct distributors of all our products. What that means, is that you can be assured that there are no middle-men profiting through us, and you will be getting the best price for all our items for sure!
Our Facebook Reviews
Bought a Garlando Pro Champion table and it came in mint condition! Boss is friendly and responsive! Will definitely recommend it to all!
Ian Wong

9/29/2016
Supplied a retro arcade. Great product for fans of vintage arcade games! Excellent service as well. Highly recommended.
David Low

1/02/2017
Purchased the Vdarts H2L?. Quick and swift response from the team. Dartboard received in good working conditions and installed within one day upon confirmation?. All ready to play with my buds?. To complete the experience, the dartboard is supported with great app - enjoy the visual and audio effect very much?. Thanks to The Men's Cave. Highly recommended!Looking forward to add on other products The Men's Cave to mine. ?
Andy Tan

8/15/2017
Connect With Us