MONTFORT CAPELAN – 6/7FT
Description
Classy, modern and luxurious rolled into one, the Billards Montfort Capelan is the perfect centrepiece for your home.
Solid wood cabinetry with customisable finish

20mm one piece Brazilian slate

Available in English or American cut pockets

Simonis premium cloth

Ball return system or drop pockets

Available in 6FT or 7FT

Made in Missilliac, France
With every purchase of the Montfort Capelan table, we're including a free accessory set worth $250. Items include:
• 1 set of Belgian Aramith 2″ Balls
• 2 x 10mm cue tip one piece cue
• 1 x Triangle
• Chalks & Brush
• 1 x Cue Rack
Table size & finish
This table is available in either 6FT or 7FT. Check out the dimensions to find out what suits you best.

Due to the multitude of cabinet finishes as well as cloth options, the Montfort Capelan table is built to order and will require us 4 – 8 weeks to deliver. The table finish and cloth are customizable to almost 100 different combinations.
Choose from the many choices of colours available with this table;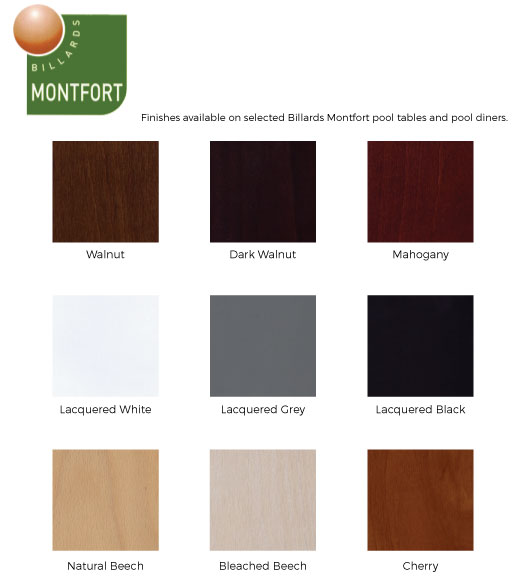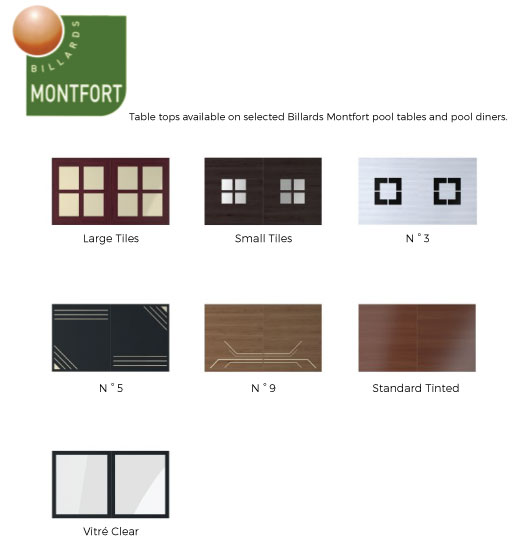 CLOTH OPTIONS:
Pair your cabinet finish with one of these cloth colours. Note, colours are purely for illustration purposes and may differ slightly in actual form.
More details
The Billards Montfort Capelan is the perfect blend of style and substance. Being a completely bespoke pool dining table, it is able to fit into the interiors of all modern day homes. Available in both 6FT or 7FT, the Capelan is the table for those who truly appreciate quality.
Fitted with premium Simonis cloth of your choice, the Billards Montfort Capelan uses a single piece 20mm slate for exceptional game play. Between the choice of English or American pockets, ball return or drop pockets and the various finishes, you will be spoilt for choice. The Capelan looks good, plays great and is perfect for modern homes.
Showroom viewing
The Montfort Capelan Pool Dining Table is available for viewing at our showroom. We have the 7FT model in H8 Hêtre laqué blanc paired with drap gris cloth. Do drop by to have a look at the table or just to have a game with us on it. No obligations, just remember to bring some beer along!
Delivery & Installation
The Montfort Capelan Table is delivered in original packaging and installed on site. Our guys will be able to complete a professional installation of the pool table in about 30 minutes.
WARRANTY:
The Montfort Capelan Table comes with a 2 years warranty covering manufacturing defects.
FREE PROFESSIONAL ADVICE:
If you have some questions about any of our products and would like to speak to a professional about it, feel free to drop us a call at +65 6567 8615 to speak to a member of our expert team!
Our Facebook Reviews
Bought the Garlando Foldy Evo for our new house and we really love it!! Gabriel who was coordinating with me was patient and knowledgeable. He showed me various models and even taught me how to fold the table. After playing it for two days, our verdict is this table is absolutely sturdy and the legs are really solid. I think for us, the option to be able to move and... read more fold a foosball table without compromising the table's quality is pretty important. Though we are only playing for leisure, we are now beginning to realise how much of a difference a good table makes!
Ng Wei Jing

8/26/2017
Supplied a retro arcade. Great product for fans of vintage arcade games! Excellent service as well. Highly recommended.
David Low

1/02/2017
Recommended by my cousin to visit this place to purchase my dart board (Vdart H2L) and others accessary yesterday. Although it is abit far for me but it's still worth my time going there. Their staffs are helpful, patience and friendly.Thanks to Gabriel for making the arrangment and guiding me to the showroom.Thanks to Brennan who waited for me and served me even after the visiting hours (because I'm late... read more for the appoinment) and he does not hesitate or irritate in answering to all of my questions.I'm happy with my darts board which is delivered to me today and have played a few rounds.Anyone who want to take a look at their product and have a hand feel of it can book an appointment with them to visit their showroom, their service is excellent that you would regret it.Will be going back for more toys, keep it up and thumb up for you guys.
Edwin Long

5/15/2017
Connect With Us