MONTFORT LEWIS INOX- 7/8FT
Description
Beauty in simplicity yet with a hint of class, the Lewis Inox table features stainless steel frame and legs. Perfect for sleek and modern homes.
Solid wood cabinetry with customisable finish

20mm one piece Brazilian slate

Available in English or American cut pockets

Simonis premium cloth

Ball return system or drop pockets

Available in 7FT, 7.5FT or 8FT

Made in Missilliac, France
With every purchase of the Montfort Lewis Inox table, we're including a free accessory set worth $250. Items include:
1 set of Belgian Aramith 2″ Balls
2 x 10mm cue tip one piece cue
1 x Triangle
Chalks & Brush
1 x Cue Rack
Table size & finish
The Billards Montfort Lewis Inox table is available in both 7 and 8 feet. It uses a single piece Brazilian stone slate as its playing area covered with tournament grade Simonis cloth from Belgium. You will be spoilt for choice with over 25 different table finishes and up to 27 different cloth options.
Choose from the many choices of colours available with this table;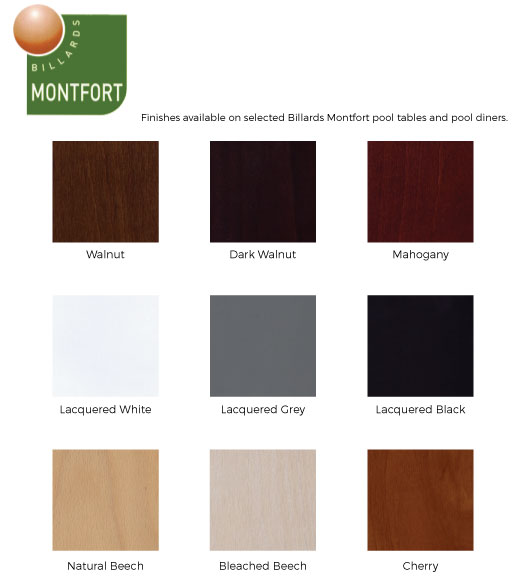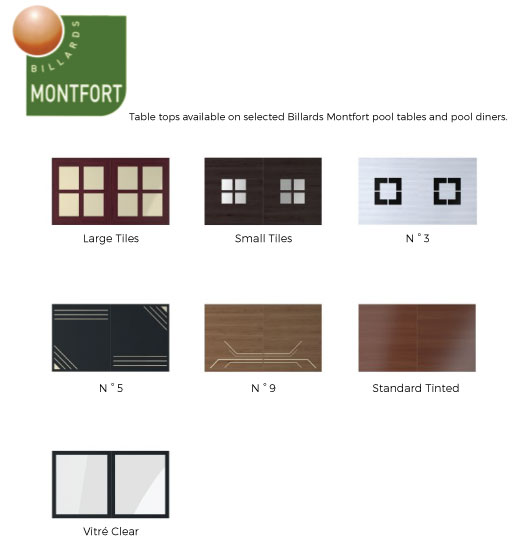 CLOTH OPTIONS:
Pair your cabinet finish with one of these cloth colours. Note, colours are purely for illustration purposes and may differ slightly in actual form.
More details
Following the name, the Lewis Inox is built after the Lewis. Featuring Inox steel, more commonly known as stainless steel, this modern looking table alternates between a sleek dining table to a classy pool table in no time at all.
With a tournament grade 20mm one piece slate, this table is a top of the line pool table yet retaining its unique quality of being fully customisable to suit your personal style. With various cloth options and table finishes, at least one thing you won't have a dilemma about would be the stainless steel legs!
Showroom viewing
The Montfort Lewis Inox table isn't available for viewing at our showroom however, you can drop by to take a look at other tables of the same range to get a grasp of the quality and size of the Montfort Lewis Inox.
FREE PROFESSIONAL ADVICE:
If you have some questions about any of our products and would like to speak to a professional about it, feel free to drop us a call at +65 6567 8615 to speak to a member of our expert team!
Delivery & Installation
Due to the multitude of cabinet finishes as well as cloth options, the Montfort Lewis Inox table is built to order and will require us 4 – 8 weeks to deliver.
The Montfort Lewis Inox is delivered in original packaging and installed on site. Our guys will be able to complete a professional installation of the pool table in about 120 minutes.
WARRANTY:
The Montfort Lewis Inox Table comes with a 2 years warranty covering manufacturing defects.
As always, The Men's Cave do not resell other retailer's products and are direct distributors of all our products. What that means, is that you can be assured that there are no middle-men profiting through us, and you will be getting the best price for all our items for sure!
Our Facebook Reviews
Got a Garlando Foldy Evolution, really great investment as Its sturdy despite its folding features. Many thanks to Gabriel who was very willing to work around my renovation schedule and have the delivery re-arranged multiple times. Much appreciated! Overall great customer service, great product, great experience.
Ben Yap

7/26/2016
Bought a Garlando Pro Champion foosball table from The Men's Cave. Great for some non-electronic gadgetry fun with my boys, and probably for parties. Some issues with the initial delivery but to be fair it was quickly rectified, and was offered a discount or free dartboard in lieu of the troubles. Was a pleasure to have Gabriel handling the order and advising us on the choice of table.
Chuck Yong

7/25/2016
Bought the Garlando Foldy Evo for our new house and we really love it!! Gabriel who was coordinating with me was patient and knowledgeable. He showed me various models and even taught me how to fold the table. After playing it for two days, our verdict is this table is absolutely sturdy and the legs are really solid. I think for us, the option to be able to move and... read more fold a foosball table without compromising the table's quality is pretty important. Though we are only playing for leisure, we are now beginning to realise how much of a difference a good table makes!
Ng Wei Jing

8/26/2017
Connect With Us